Anschütz, a brand with more than a century history (since 1905), has a new owner and is part of DMB Dr. Dieter Murmann Beteiligungsgesellschaft mbH, meaning that Raytheon Anschütz GmbH is to be renamed Anschütz GmbH once the entry in the commercial register has been made.
DMB takes over the entire Anschütz Group with its headquarters in Kiel and international subsidiaries in Panama City, Portsmouth (United Kingdom), Rio de Janeiro, Shanghai and Singapore. Anschütz returns to a German owner and to the traditional company name.
"DMB is a strong partner with proven experience and expertise in international maritime business," said Michael Schulz, Managing Director of the future Anschütz GmbH. "Our new owner enables us to achieve sustainable growth in our markets by reacting more quickly to the needs of our customers and creating innovations that generate additional customer benefits and shape the navigation of the future."
Anschütz is a manufacturer and an integrator of navigation, bridge, and mission systems for commercial and naval vessels, as well as an industrial partner in several national and international maritime research projects.
The product range includes gyro compasses, autopilots, steering control systems, radar systems, electronic charts display and information systems (ECDIS), and electronic logbooks. Around 30,000 ships are equipped with Anschütz products and are supported by the Anschütz Group and a global network of certified sales and service partners.
The Anschütz company was founded in 1905 by Dr. Hermann Anschütz-Kaempfe after he invented the gyro compass for ships. Supported by Albert Einstein, Anschütz continued to develop the gyro compass over the years until 1925 when production of the well-known two-gyro compass began.
Over the decades, Anschütz was able to revolutionize shipping with numerous innovations, including the so-called iron helmsman, the chart plotter, the track control system and the first integrated navigation system with type approval. Anschütz has belonged to Raytheon Company since 1995, later Raytheon Technologies. During this time, Anschütz expanded the product range to include radar systems and electronic chart display and information systems (ECDIS), and developed into an integrator of customer-specific bridge systems and mission systems (command & control systems, situational awareness systems).
In December 2022, DMB signed a purchase agreement with Raytheon Technologies, which became effective on February 27, 2023 due to the official approvals now available. The change of name from Raytheon Anschütz GmbH to Anschütz GmbH will officially be completed with the entry in the commercial register.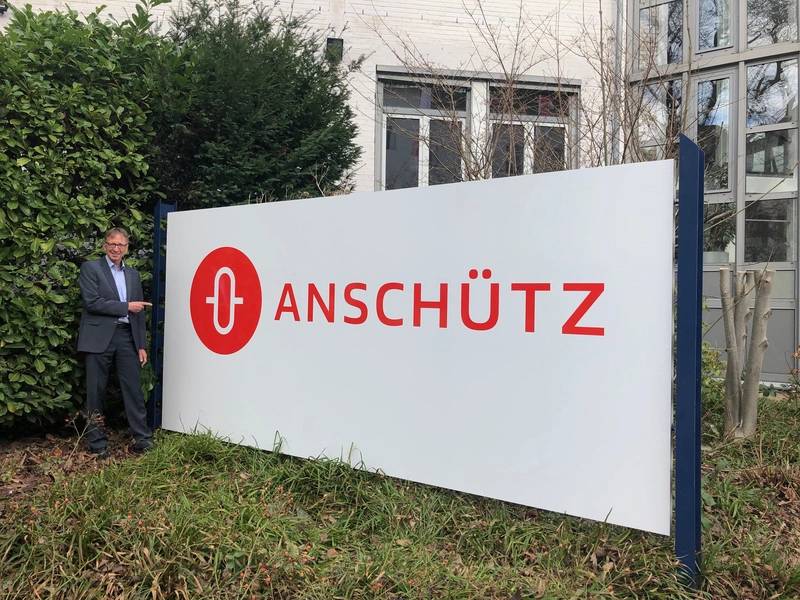 Image courtesy Anschütz