Telemar Yachting, a Marlink Group company, partnered with bridge console designer Pariani Srl to create T-Master Touch. This unique full-touch bridge for superyachts, combining touchscreen technology with flexible bridge ergonomics represents a shift in modern navigation.
T-Master Touch combines workstations/pods, each equipped with large 32-inch 4K touch screen displays which can be built-in or installed standalone, enabling the bridge team to optimise their workflow, replacing the traditional linear console approach. On screen navigation functions can be completely customized, allowing users to choose displays and overlays as well as controlling bridge functions, reflecting different operating scenarios.
Telemar Yachting completed the first installation of this innovative bridge solution onboard the 57.8-m Kathryn, launched from Codecasa Shipyards of Viareggio in July. This installation features three navigation stations combining Telemar's renowned safety of operations with a high-specification interface completely controlled by touch.
The bridge consoles integrate a diverse array of essential technologies for safe navigation, including radar and chart plotters as well as wheelhouse controls, to deliver an ultra-modern integrated system with stunning aesthetics, suitable for any luxury superyacht. It is a highly flexible solution that can be customized according to client needs compliant with flag state requirements for safe operations with a significant level of redundancy.
---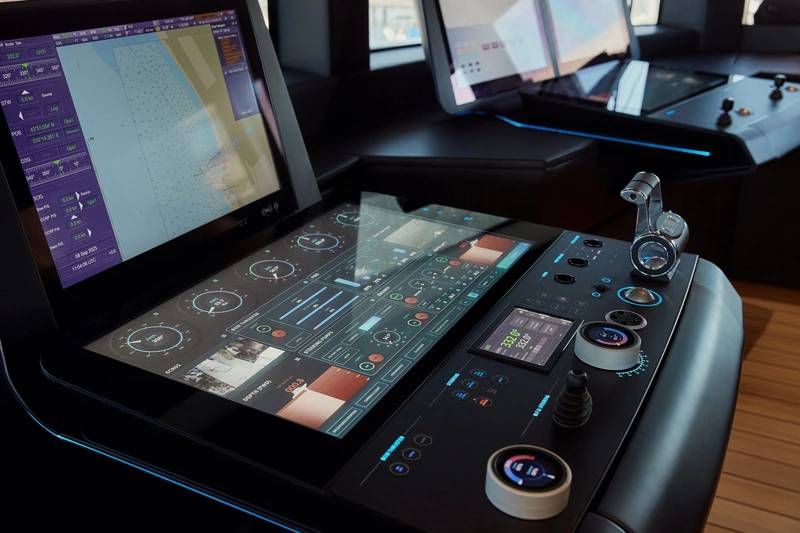 Telemar Yachting completed the first installation of this innovative bridge solution onboard the 57.8-m Kathryn, launched from Codecasa Shipyards of Viareggio in July. Image courtesy Telemar Yachting